Product description
SPY SET - WiFi pen camera P2P live streaming with FULL HD + Spy earpiece offers remote monitoring via the Internet + real-time communication via the latest Spy handset. A pen with micro sd support up to 128GB and with motion detection - perfect camouflage for the camera and together with the Spy headset it is an ideal spy combination for unobserved surveillance and communication. The spy pen records a video recording in Full HD 1080p resolution, at 30 frames per second, it is also equipped with a microphone, rechargeable battery with a capacity of 200mAh and a recording time of up to 90 minutes.
And with the help of the bluetooth Spy handset, you can communicate with the other person on the phone wherever you are - all you need is a GSM phone and data internet connection (ideally via your smartphone) for the whole set. The unique spy set will find its use in various life situations when you need secret video recording with sound and communication via a spy earpiece.
SET - Elegant pen with WiFi (P2P) and FULL HD + real-time communication via Spy handset
Recording video discreetly is one thing, and taking high-quality recordings or pictures is another. The spy pen is a perfect combination of both and is really very easy to use. The spy camera looks like a stylish and elegant pen, which guarantees that no one will even think that it could be a hidden camera. Camera in a pen - the possibility of covering the camera lens with a sliding cover.
Live viewing of the image from the pen via the app (iOS/Android) wherever you are via the Internet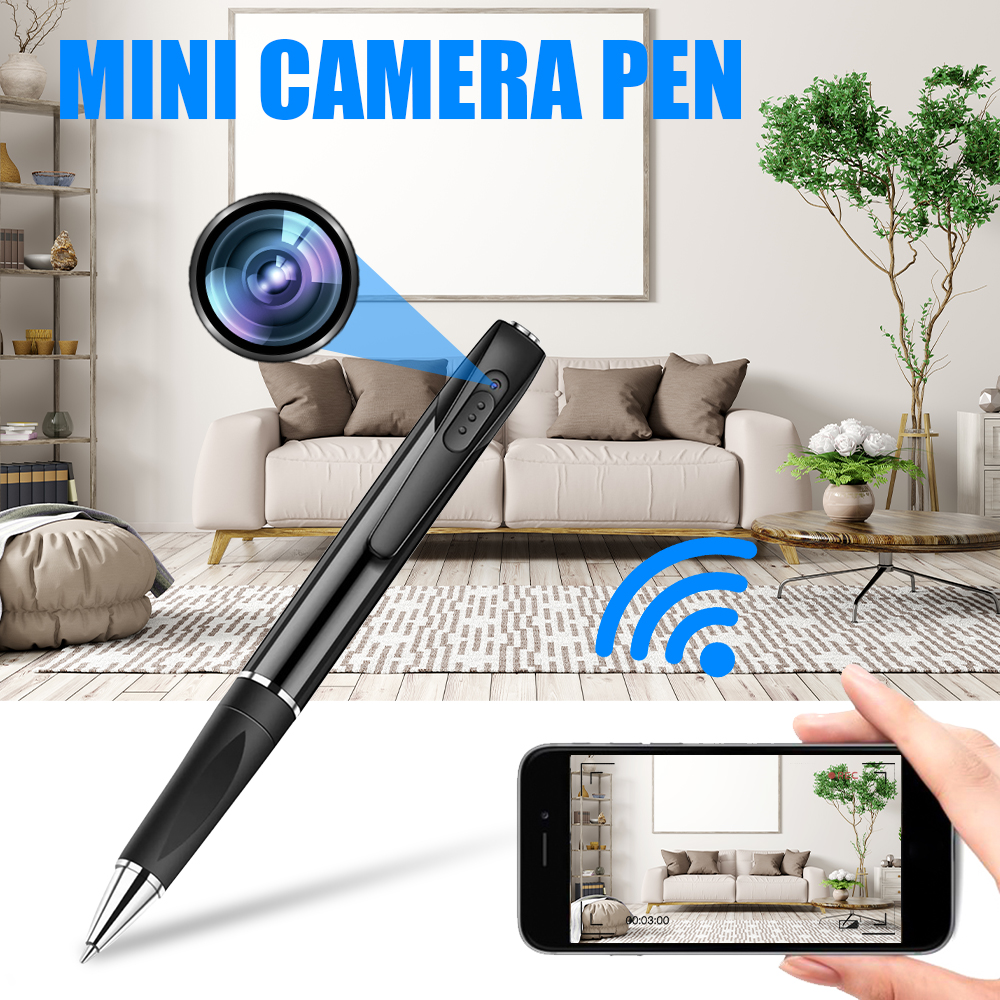 The pen records video footage in Full HD 1080p resolution, at 30 frames per second in AVI format. The pen is also equipped with a microphone, a rechargeable battery with a capacity of 200mAh and a recording duration of up to 90 minutes, and with support for micro SD cards up to 128 GB. The pen is suitable for recording indoors or outdoors. Controlling the pen is very simple with a single button. You can write realistically with a spy pen and you can change the cartridges in it.
FULL HD resolution and lens with a 65° viewing angle
You can control the functions of the camera remotely via a freely available mobile application for smartphones (iOS, Android). Through the application, you can change the video resolution, the length of individual videos, the recording method - motion detection with an alarm (notification alerts), or continuous recording. The security camera can also be connected to a home router via WiFi or P2P, which allows you to watch the image from the camera via the Internet anytime and anywhere directly through your mobile phone (all you need is an Internet connection).
Universal use anywhere - inconspicuous recording of FULL HD video with sound
Features of glasses:

Unobtrusive appearance


A miniature mini DVR camera hidden in a pen


Built-in microphone


The possibility of covering the camera lens with a sliding cover


WiFi connection, P2P live image viewing
Pen Specifications:
Color: black
Wi-Fi: yes
Mobile app: yes, compatible with iOS and Android
P2P support: yes
Video format: AVI
Video resolution: 1080p FULL HD
Shooting: 30 fps
Camera viewing angle: 65°
Motion detection: yes
Photo resolution: 4032x3024
Image format: JPEG
Microphone: built-in
Audio format: WAV
USB port: micro USB
Power supply: DC 5V 1A
Battery: built-in, rechargeable with a capacity of 200mAh
Battery life: up to 90 min.
Storage: micro SD card support up to 128GB (not included)
Dimensions: 14,7x1,9cm
Spy handset with bluettooth 20W amplifier the latest model - each of us knows the life situations when you would appreciate if someone could advise you, or to help in a difficult situation, without anybody knowing about it.
Spy earpiece is a revolutionary device that lets you connect with someone at a distance through your mobile phone or transmitter, without anyone knowing it. The principle is simple, just insert the wireless spy earpiece (that is not visible beacuse of its miniature size) into your ear, and hang on the neck the bluetooth necklace (for pairing with a mobile phone) with ultra power and a 20W power amplifier, through which the signal is transmitted wirelessly into the earpiece, where the signal changes to voice.
We recommend to customers, that they should not purchase cheap low-quality imitation of spy earphones through unverified sellers.
We have 24 months guarantee of a spy handset. Expert advice and service. The spy headphones are shaped to perfectly fit into the ear drum, so they are not noticeable at all. They are made of harmless material.
The latest advanced model of the popular spy earpiece. Compared to the previous model, it has an improved anatomical shape to perfectly seal the ear against leakage of sound to surroundig. The handset consists of a sensitive receiver (coil), a stable micro speaker, with very clean and clear sound with reduced noise.
The earpiece is simply inserted into the ear canal in your ear. A translucent hook is attached to the handset with which the earpiece is easy to take out. For even easier handling of the handset, we offer a magnetic tweezer in our e-shop. Included in the package is a battery that lasts up to 7 hours.
Features of the spy earpiece

Professional design, excellent sound quality


Ergonomic shape, comfortable handling


Battery: 1,55 V (337 SR 416SW) battery life up to 7 hours


Dimensions: 13x6mm


Working frequency: all frequencies


Bluetooth connection with mobile devices


Easy to control and receive calls


Handsfree support for two-way communication


The possibility of starting the recording directly from your phone - to play MP3 files


Talk time per charge is up to 12 hours, standby time up to 130 hours


The Bluetooth loop contains a built-in 700mAh lithium battery


The Bluetooth loop contains a 20W amplifier


Integrated microphone
The package of the set contains
Wifi camera in a pen
Micro USB cable
Tweezers
Spy handset
Microphone
Bluetooth loop 20W for hanging on the neck
USB cable
Power adapter
Manual
Why buy spy equipment from us?
We test each new product during a few weeks and after a final inspection it is included in the sale
Our offer is not the biggest on the market, but we offer only products tested by us - quality and reliable spy products
We are not the cheapest, but our customers are satisfied customers
Many years of experience in selling of spy products (spy cameras, spy equipment) over 12 years of experience
Expert advice at installation and adjustment of products (via telephone or email)
We offer 24 months warranty on all products and free return within 14 days from delivery
Our cooperation does not end with the sale, we offer qualified customer service
In case of claim, we try to shorten the time for the processing to a minimum (usually 7-14 days). If the goods are not functional, the solution is providing an exchange for a new piece
NOTE: Competing products (with significantly lower costs) that you find may have the same design, but they use low-quality components such as amplifiers, batteries, etc. which result in a low cost (less expensive) version of the product, so they have a significant impact on the total quality and operating life. Based on that, we recommend our customers to consider the profitability of investments and the purchase according to this fact.