Product description
Wifi pen camera (P2P) - FULL HD Mini Spy hidden recorder CCTV + micro sd support up to 128GB with motion detection for secret video recording with audio. Recording video discreetly is one thing, and taking high-quality recordings or pictures is another. The spy pen is a perfect combination of both and is really very easy to use. The spy camera looks like a stylish and elegant pen, which guarantees that no one will even think that it could be a hidden camera.
The pen records video footage in Full HD 1080p resolution, at 30 frames per second in AVI format. The pen is also equipped with a microphone, a rechargeable battery with a capacity of 200mAh and a recording duration of up to 90 minutes, and with support for micro SD cards up to 128 GB. The pen is suitable for recording indoors or outdoors. Controlling the pen is very simple with a single button. You can write realistically with a spy pen and you can change the cartridges in it .
Spy pen camera with FULL HD + WiFi support (iOS/Android app)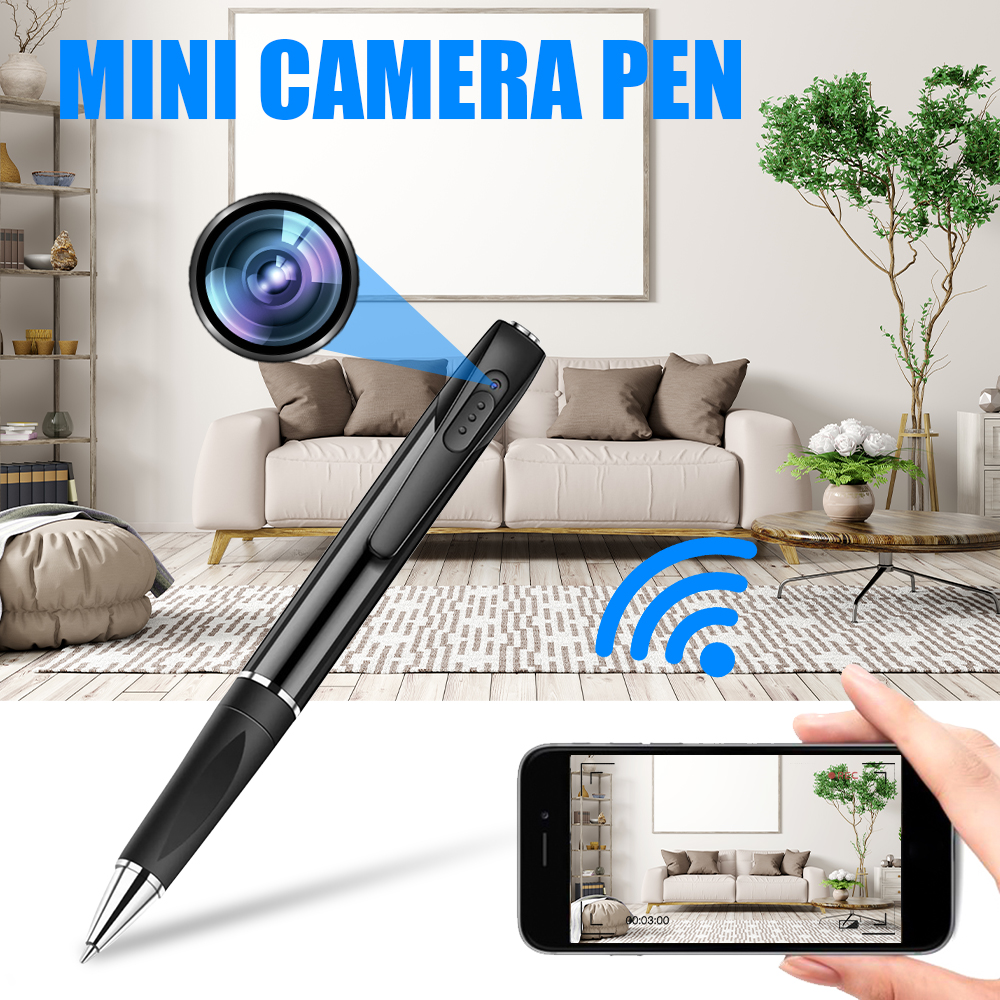 You can control the functions of the camera remotely via a freely available mobile application for smartphones (iOS, Android). Through the application, you can change the video resolution, the length of individual videos, the recording method - motion detection with an alarm (notification alerts), or continuous recording. The security camera can also be connected to a home router via WiFi or P2P, which allows you to watch the image from the camera via the Internet anytime and anywhere directly through your mobile phone (all you need is an Internet connection).
Hidden camera pen with motion detection alarm (notification on smartphone)
FULL HD resolution and a lens with a 65° viewing angle
Camera in a pen - the possibility of covering the camera lens with a sliding cover
Universal use anywhere - inconspicuous recording of FULL HD video with sound

Features:



Unobtrusive appearance


A miniature mini DVR camera hidden in a pen


Built-in microphone


The possibility of covering the camera lens with a sliding cover


WiFi connection, P2P live image viewing
Technical specifications:
Color: black
Wi-Fi: yes
Mobile app: yes, compatible with iOS and Android
P2P support: yes
Video format: AVI
Video resolution: 1080p FULL HD
Shooting: 30 fps
Camera viewing angle: 65°
Motion detection: yes
Photo resolution: 4032x3024
Image format: JPEG
Microphone: built-in
Audio format: WAV
USB port: micro USB
Power supply: DC 5V 1A
Battery: built-in, rechargeable with a capacity of 200mAh
Battery life: up to 90 min.
Storage: micro SD card support up to 128GB (not included)
Dimensions: 14,7x1,9cm
Package contents:
1x Camera hidden in the pen
1x Micro USB cable
1x Tweezers
1x Manual

Why to buy spy technology through our e-shop?
We test each new product during a few weeks and after a final inspection it is included in the sale
Our offer is not the biggest on the market, but we offer only products tested by us - quality and reliable spy products
We are not the cheapest, but our customers are satisfied customers
Many years of experience in selling of spy products (spy cameras, spy equipment) over 12 years of experience
Expert advice at installation and adjustment of products (via telephone or email)
We offer 24 months warranty on all products and free return within 14 days from delivery
Our cooperation does not end with the sale, we offer qualified customer service
In case of claim, we try to shorten the time for the processing to a minimum (usually 7-14 days). If the goods are not functional, the solution is providing an exchange for a new piece
NOTE: Competing products (with significantly lower costs) that you find may have the same design, but they use low-quality components such as amplifiers, batteries, etc. which result in a low cost (less expensive) version of the product, so they have a significant impact on the total quality and operating life. Based on that, we recommend our customers to consider the profitability of investments and the purchase according to this fact.