Product description
Moon night lamp 3D galaxy light up touch lamp (illuminated) into a room with a 3D surface of the moon on a stylish wooden base, a great stylish accessory to the interior, winter conservatory or covered terrace. The moon-shaped lamp is powered by the USB cable included in the package. You can also hang the moon with the lanyard included in the package. Thanks to the included stand, the moon lamp can be placed on a bedside table, on a shelf or anywhere indoors or even outdoors, for example in a winter garden or on a terrace. Easy to use and manipulate, just touch the lamp on the surface and you will switch between 3 levels of light: white light, yellow light and natural light.
The moon light (galaxy lamp) is a great decoration for any bedroom, living room or children's room
3D moon lamp, in addition to being a perfect fit to any space, it can also serve as a night lamp, as this model shines with 3 levels of lighting. Whether it is a visit or a customer, with this accessory you will definitely score points. The floating moon is the perfect decorative accessory for people who like unusual and interesting things. Or place it in the kids room and your children will be delighted. The base of the globe is wooden, what enhances its design appearance.
The moon lamp has a 3D surface and is a authentic copy of the real moon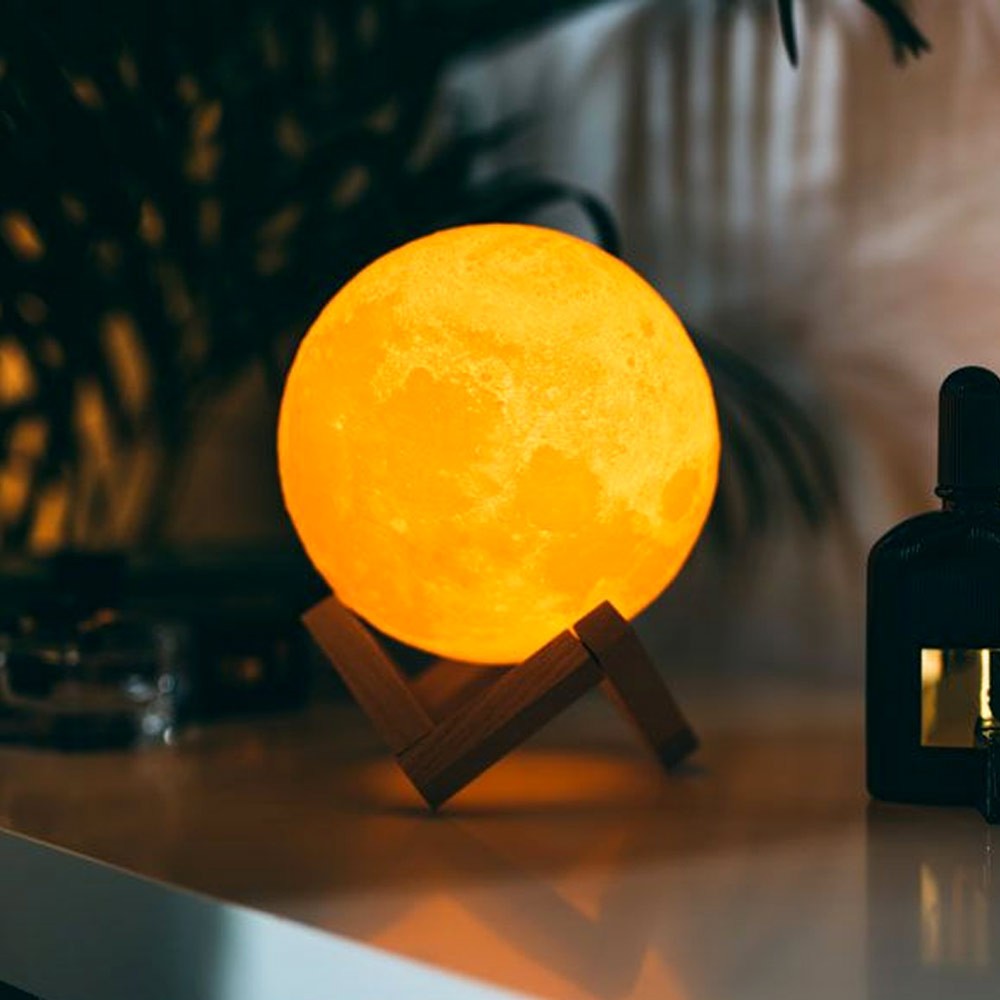 Bring a piece of space to your home using a 3D moon lamp.


The moonlight can be set in 2 different modes: "automatic" and "on".


You can enjoy 3 different lights: white light, yellow light and natural light.


The colors switch by touching the surface of the lamp.


Tune the lamp as you wish simply pressing the button on the bottom of the lamp.


USB charging allows a very long operating time of 6-8 hours.
Technical specifications:
Power supply: via USB cable (included)
Color: white
Material: PVC
Diameter: 15,5 cm
Weight of lamp with base: 406 grams
Wooden stand
Package contents:
1x Touch 3D lamp - moon
1x USB cable
1x Wooden stand
1x Lanyard for hanging the moon