Product description
RGB Square light Smart for wall 7x (20x20cm) 8x8 = 64 pixels - LED Twinkly Squares + Bluetooth + WiFi with control via APP. This revolutionary LED light chain brings a unique light decoration to our homes using the latest technology. The lights are controlled via a mobile application that is compatible with Android, iOS. This package contains a controller - Wi-Fi/Bluetooth connection and controlling and 7 light squares, each measuring 20x20cm. There are 64 LED lights of 8x8 pixels on each square. Adjustable RGB lights of II. generation Twinkly Squares.
Unique LED light square for wall color RGB - LED Twinkly Squares 7x 64 pcs LED
The devices communicate with each other wirelessly using Wi-Fi and Bluetooth. You can pair and control 10 Twinkly lighting devices at once, or 4000 LEDs, with the same displaying light motif and pattern. You can create your own amazing animations which will fill and brighten the entire room. The strip is designed for indoor use - IP20 protection.
LED light decorative squares - TWINKLY SQUARES (64 pieces of lights on one square)
The light strip consists of 64 pieces of LED lights suitable for any decoration. The RGB diode means that LED lights can make an RGB light shade of 16 million colors. You can adjust the light intensity and the exact color from the color scale. This special edition includes smart home integration with Google Assistant and Amazon Alexa.
Beautiful light decoration - set your own colors, animations and LED lights motifs together for multiple LED devices
Your decoration can be created from several devices and different shapes. Do you want to have a light chain on the wall, a colored frame and an LED sparkler on the windows, and a large Christmas tree in the middle of the room? Not a problem! Create your own scene and control it at once with a common lighting theme.
The sophisticated mobile application pairs your smartphone with the device and you can control it immediately. The application itself maps the layout of the lights and you can then easily set a different color for each bulb or group of bulbs separately. The controlling is very simple, fast and intuitive. In the application, you can choose from default patterns, download new patterns from the Internet from the online gallery, or create your own themes and save them.
Universal LED light ornament controlled via a mobile application for Android and iOS

You can also control light intensity, rate of change, color, hue, brightness, rotation, blending, and more. The timer function allows you to set the light to turn on and off automatically according to a time schedule. The playlist function allows you to set different types of themes in chronological order and automatically change them according to the settings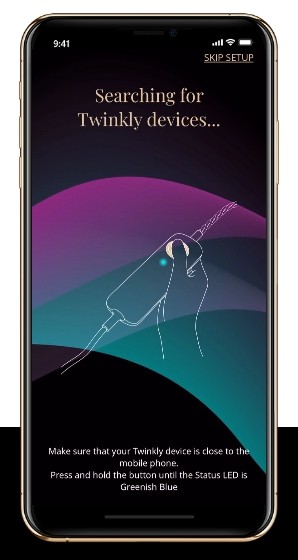 With the optional USB device MUSIC DONGLE, your light decoration will respond to the music played in the room, the light will change and switch to the rhythm of the music, according to the set parameters. There are a number of patterns and themes available for selecting "display by music", which can be edited and set to suit your needs.The changing lights in the rhythm of the music, as the graphic equalizer dances immediately at each party. USB device MUSIC is an additional product, it is necessary to buy it in our e-shop.
Features:

64 LEDs on one square


Control via mobile application


Wi-Fi and Bluetooth connection


RGB light - scale 16 mil. colors


Universal use


7 LED squares in the package

Specification:
Model: TWQ064STW-07-BEU
Number of diodes: 64 per one square
Durability: IP20
Connection: Wi-Fi, Bluetooth
Dimensions of the illuminated part: 20x20cm
LED type: RGB
Bulb life: over 30,000 hours

Package contents:
7x LED light square with 64 diodes
1x Manual