Product description
Customized LED shirts with your own logo - 50x pack - we will produce 50 pieces of LED tshirts with the supplied logo or graphics design exactly by your requirements. With this LED shirt you will definitely have a great marketing tool to promote your business activities.

Custom light up shirts - the help to promote yourself or your business. Imagine your logo or graphic design on these unforgettable t-shirts! You will get an incredible attention of the others for anything, what you would like to promote on these unique T-shirts.
With flashing shirts are much more of expressive than standardly printed t-shirts. Your logo will be flashing at all events of your customers. Great for souveniers, great for promotional actions and various events.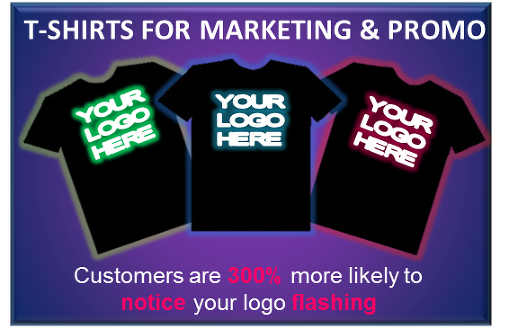 If you are interested please follow these steps.
1. Step: For the final price calculation of 50 pcs custom LED shirts you need to specify exact sizes of t-shirts (S – XXXL) and delivery country for shipping costs calculation.
2. Step: We need your logo or graphics design for custom LED panel animations in high resolution (ideal in curves).
3. Step: WE will prepare the animation of custom LED panel with your logo or graphics design, and send you by e-mail in a GIF file for your confirmation.
4. Step: IF you will agree with animation of LED panel, we will send you data for pre-payment. We accept paypal or bank transfer.
5. Step: After we receive the payment, we will start with production process. It usually takes 14 - 21 days - it depends on total amount of ordered pieces of custom led t-shirts.
6. Step: When we will finish the production of the custom LED t-shirts, we will send you a package with your order to the delivery adress by 1st class post service and we will send you the tracking number. So you can track your package online.
We deliver custom LED shirts worldwide. We have customers in 31 countries of the world.
If you are seriously interested send us your demands about custom flashing t-shirts directly at [email protected]
!!!Please make a note that there are companies from China that producing very cheap custom led t-shirts with CHEAPER materials, and therefore the goods are often faulty and light is less expressive !!!
WE are selling quality custom led t-shirts with FINEST materials. Furthermore, we offer a 2 YEAR WARRANTY. We have CE and ROHS certification of our products. Our company holds an internationally recognized quality management system certificate ISO 9001:2008 - Click for more info

LED Shirts specification:
Made from 100% cotton. The high quality t-shirts are able only in black colour.
Led panel is attached to the shirt through the Velcro zip - allows easy demounting of panel.
Mini pack or control unit (where is inserted the battery) is removable because of washing of t-shirt.
Mini pack is equipped with the switch ON/OFF and sensitive scroll wheel - you can choose either high or low sensitivity.
Batteries: 4 x AAA (not included)
If you company wants to increase the brand awareness, our Flashing LED shirts are a great addition to your marketing strategy. They are really effective marketing tool for promotions and events and really stand out in the crowd wherever you use them!
FAQ about LED T-shirts
How does it work?
There is used the electroluminescent technology to make them flash. LED panel is made of thin paper and flexible material. This means, that if you wear this t-shirt, you feel exactly the same as if you wear classic t-shirt. The Sound sensor technology can light up with any sound, or noise, or music. LED panel is attached to the T-Shirt through a Velcro zip. Mini control box is provided separately and it can be buckled to your belt. You can switch the on/off button in the mini control box (inverter) to control the lights and the sound sensitivity.

How is it powered and how long does it work?
It is powered by 4 AAA 1,5V bateries. The battery power can last for 10-14 hours depending on the length of time of using or depending on the brand of battery.
How can I wash them?
The led t-shirts can be easily washed. Just detach the LED panel with wires from t-shirt and remove the battery pack.
Some references of custom LED tshirts:
| | | |
| --- | --- | --- |
| | John Gallen | "We are very satisfy with led t-shirts with logo of our company. We can recommend this company, great servis and perfect product." |
| | Adala Sender | "Custom led t-shirts exactly meet our requirement for new marketing tool. Fast delivery, perfect communication from seller." |
| | Peter Kniebel | "My company is looking for supplier of light up t-shirts with our logo and we found this company. We made great decision when we order it. Perfect value for money and quality is very very good." |
| | Eugen Malik | "We are a marketing company and have many clients for which we provides promo and marketing services. Our customers like custom led t-shirts, we found this product really usefull to attract attention of potential customers." |
| | Eva Skalska | "Perfect cooperation, fast delivery and great value - TOP seller!!!" |
| | |
| --- | --- |
| Custom led t-shirts videos you can find at our YT channel - YouTube | |