Product description
Morph T-shirt - Iron Man suit. Arc Reactor - the power source. Be like Tony Stark and transform yourself to the world's largest fighting machine by wearing this Iron Man T-shirt with function of glowing Arc Reactor. To achieve this scary effect, you simply download the free app to your smartphone, place the mobile device in your pocket in a shirt, and go ahead, great Iron Man is here. The clicking starts and stops movement.
Amazingly simple and absolutely perfect - only 30 seconds of preparation, and will be dominated by the party or in any night or day with our interactive morph shirt ... Show the party as chief in jeans and shirt, but not just any shirt, but Morph shirt ! And get ready for a lot of photos and videos, you will be the center of attention. All Morph Designs T-shirts are 100% original and 110% awesome.
Unbelievable interactive and digital MORPH shirts you've never seen before .. We guarantee that you will be the star of any Halloween party, or at the carnival, discos, clubs and festivals.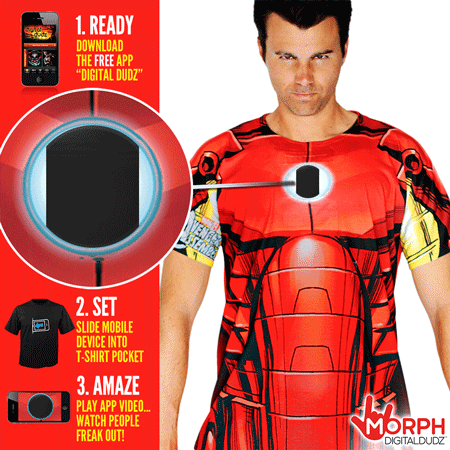 Morph T-shirts great for Halloween, carnivals, a disco, a club, for a party or festival are the right investment for you if you want to get attention and be especially cool. Suitable as a special gift for loved ones. Morph digital and interactive t-shirts for sale can be bought online in our e-shop. It has a new front shirt pocket, so you can remove and insert your phone in less than 2 seconds.
Digital Morph shirts are suitable for mobile phones in sizes up to 6.25 "x 3.25" (the Galaxy S and iPhone 6 Plus).
Apple device must have iOS 6 or higher.
Android devices - running Android 2.2 or higher.
More information:
More fun, more action, more friends, more stories and experiences
Made from the highest quality materials for maximum comfort and durability.